BOUTIQUE HOTEL WITH VIETNAMESE AUTHENTIC CUISINE, HANDS-ON COOKING CLASS & A PERSONAL TOUCH OF SERVICE
Strategically located in the heart of Hoi An, on Cua Dai road, Goda boutique hotel Hoi An distinguishes itself with grace and glamour. Contemporary and spacious, stylish and elegant, Goda is the most charming boutique hotel in Hoi An town, conveniently reaches to town, beach or other local attractions just 10-minute cycling
The establishment consists of a 22-room hotel in boutique style, up market dining facilities, garden and terrace with views to countryside landscape
Rooms are fresh and sleek, reflective of individuality and particularity in meticulous design, with Vietnamese touch and local taste, en-suited bathroom with bold, contemporary and stylish statement, spacious walk-in shower and bath tubs
Dining excellence and culinary experience are focal points at Goda, featuring Vietnamese authentic fine cuisine and Hoi An specialties. Our chefs visit the farmers' market every early morning to ensure only the freshest and finest ingredients, the latest catch of seafood to be in their menus.
The cooking class and culinary tours offer participants an experience in garden to plate practice, a taste of Vietnamese creation which must be highlighted in your vacation planning to Hoi An
The unique combination of fine dining facilities and Hoi An boutique hotel will provide you with a memorable difference to ensure your stay truly inspiring
THE OWNER AND THE CULINARY INSTRUCTOR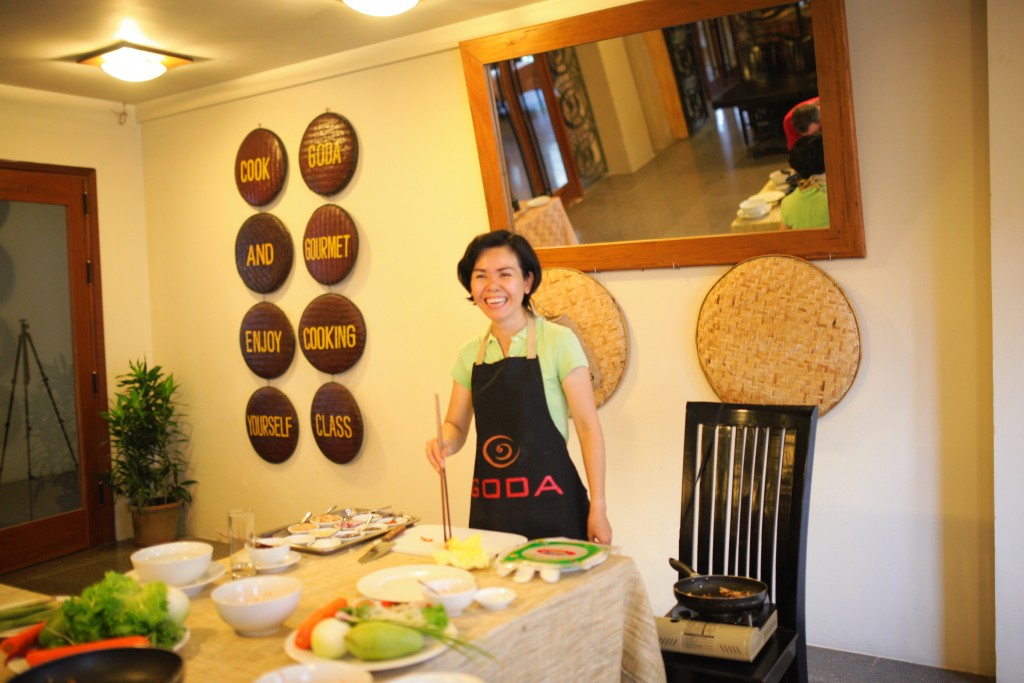 Passion in hospitality, Mrs. Linh decided to establish GODA Bar & Restaurant in Hoi An town on 2006. The restaurant offers Vietnamese fine cuisine to visitors all over the world.
To present Vietnamese culture via culinary experience, Linh launched GODA Gourmet cooking class, named A TASTE OF VIETNAM, an interactive, hands-on cooking lesson. Together with culinary tours to local village and market, the program reflects all aspects of local farming daily activities for their livings
The development of Goda boutique hotel, the most charming boutique hotel in Hoi an, brings the idea of the hotel of the place, the people of the location and the culture of authentic Hoi An experiences
Born in Hoi An, Linh comprehends all details of Hoi An from cuisine, culture and customs. Rich knowledge on herbs and traditional medicine makes her cooking class a must and highlighted local attraction while you are in Hoi an
Trained to be a teacher of English, her fluency of English is a plus on communication. Besides, she can speak French and Chinese as well
Contact  details:
Phone: +84 905 192 861
Email: Pdthanh@godahoian.com
Cook and tour with Linh at: reservation@godaboutiquehotel.com
MILESTONE
| | |
| --- | --- |
| Year | Achievement |
| 2006 | Establish GODA Bar & Restaurant |
| 2010 | Develop of GODA Boutique Hotel |
| 2013 | Launch GODA Gourmet cooking class |
| 2014 | Open Goda Boutique Hotel |